Discover the wine domain in Alsace in Ribeauvillé, Bott Frères
Want to taste and discover the best Alsatian wines in organic conversion ? Are you looking for a wine for a special occasion or just to please yourself? Maison Bott Frères offers you its selection of Alsace wines, which bear witness to an alchemy between know-how spanning nearly two centuries, an exceptional land, quality grape varieties and the microclimate of Ribeauvillé.
The Bott Frères wine estate offers several ranges to be enjoyed all year round: white or rosé crémants to sparkle your family and festive meals, the Tradition, Réserve Personnelle, Grands Crus, Vendanges Tardives, Magnums, spirits … good nectars to be tasted.
An unmatched aromatic palette of 7 grape varieties
The Tradition range reveals the entire aromatic palette of the seven Alsace grape varieties. Sylvaner, which combines lightness and freshness with a subtle fruity note, is consumed in summer for a thirst-quenching aperitif and goes wonderfully with seafood. Rounder than Sylvaner, Pinot Blanc will enhance both poultry and mild cheeses such as Carré Blanc, cream of Gruyère. With its supple and greedy attack on the palate, it will whet the appetite right from the aperitif.
Flagship wine of the Estate, Muscat offers on the palate all the crunchy generosity of a bunch of grapes and goes well with asparagus or Asian dishes thanks to its delicacy.
King of grape varieties, Riesling is characterized by its dry side, while retaining liveliness with its lemony notes, touches of grapefruit, pineapple, ginger and white flowers. This very refined wine goes well with fish, shellfish, seafood, scallop carpaccio as well as sauerkraut, an emblematic dish of Alsace or even cheeses such as fresh goat cheese with herbs. Formerly called Tokay, Pinot Gris is distinguished by its fruity sweetness with its aromas of peaches, brioche, quince and acacia honey. Fans of foie gras and creamy dishes will appreciate its brioche notes. Very exuberant, with its explosion of exotic flavors, Gewurztraminer embodies the quintessence of Alsace while inviting for a taste escape, accompanying spicy Asian or Indonesian dishes.
With the only red variety from Alsace, Pinot Noir, the Bott frères wine estate offers four wines: crémant rosé or white, a rosé from Alsace and a traditional red all in lightness that presents notes of black cherries, currants. , ideal for barbecue! The vineyard also produces a Pinot Noir Eclipse, from an old plot, a more fleshy and full-bodied wine for aging.
The Domaine produces wines from four Grands Crus: Osterberg, Geisberg, Kirchberg de Ribeauvillé, Gloeckelberg which benefit from an exceptional climate as well as unique terroirs and give birth to wines of great finesse.
Come and discover all the diversity of the wines in organic conversion from Domaine Bott Frères in Alsace.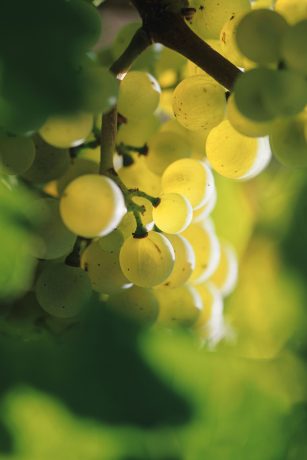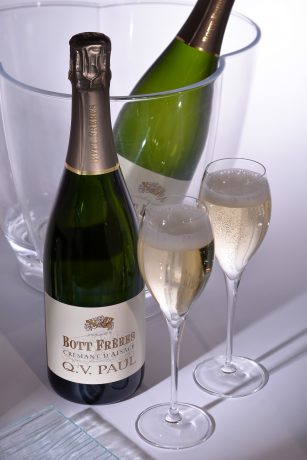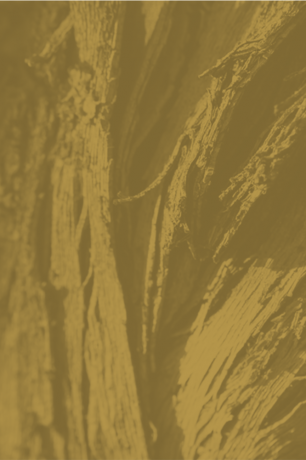 Crémant d'Alsace
Our range declines 4 Crémants Bruts elaborated according to the traditional method, successful alliance of the Alsatian grape varieties. Our Crémants d'Alsace allow you to vary the pleasures during your aperitifs and receptions! Something to put bubbles of happiness in your glasses.
Our « Crémants d'Alsace » :
– Crémant Blanc « QV Paul-Zéro Dosage »
– Crémant Blanc « Cuvée Nicole »
– Crémant Blanc « Blanc de Noirs »
– Crémant Rosé
Tradition
Through the 7 emblematic grape varieties of Alsace, our "Tradition" range is the expression of the Alsatian typicity: the wines of this range are distinguished by their harmony and their finesse.
Our « Tradition » Wines :
– Sylvaner Tradition
– Pinot Blanc Tradition
– Muscat Tradition
– Riesling Tradition
– Pinot Gris Tradition
– Gewurztraminer Tradition
– Pinot Noir Tradition
– Rosé d'Alsace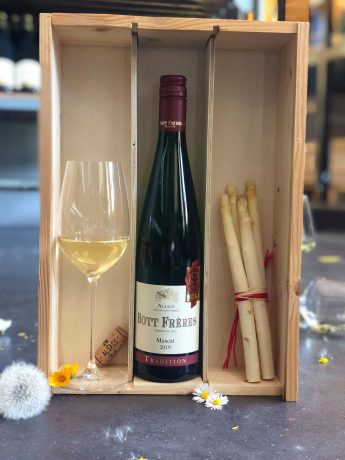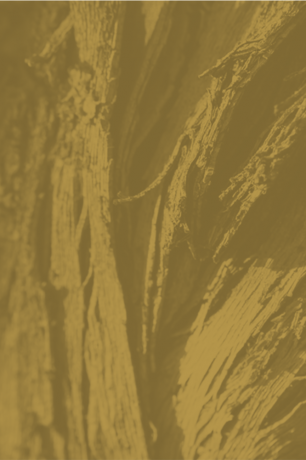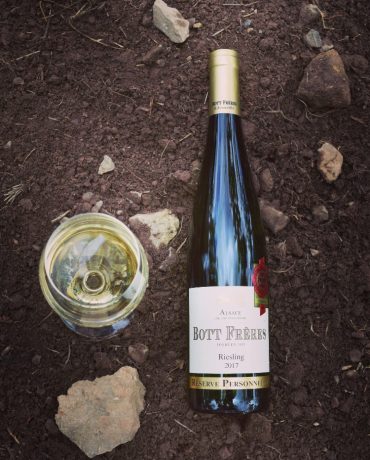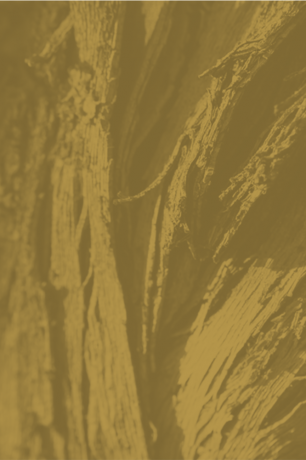 Réserve Personnelle
The wines from our " Réserve Personnelle " range come from our old vines on the high slopes of Ribeauvillé. They will seduce you by their complexity and their refinement. Gastronomic wines par excellence.
Our « Réserve Personnelle » Wines :
– Riesling Réserve Personnelle
– Pinot Gris Réserve Personnelle
– Gewurztraminer Réserve Personnelle
– Pinot Noir Éclipse
Grand Cru
The wines of our "Grand Cru" range are characterized by exceptional terroirs which give them an expressive strength, a great finesse and a particular authenticity. With an ageing potential of more than 10 years, these wines are real treasures in your cellars.
Our wines, Grands Crus of Alsace :
– Riesling Grand Cru Kirchberg de ribeauvillé
– Riesling Grand Cru Osterberg
– Riesling Grand Cru Geisberg
– Riesling Grand Trio
– Pinot Gris Grand Cru Gloeckelberg
– Gewurztraminer Grand Cru Gloeckelberg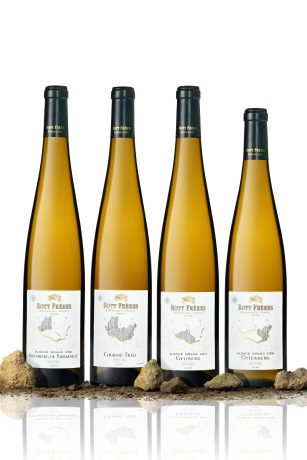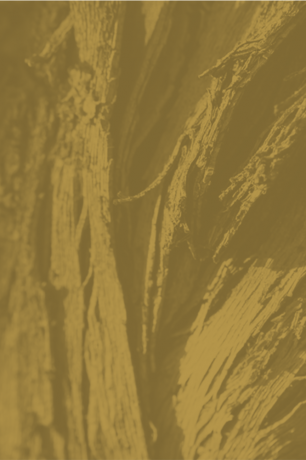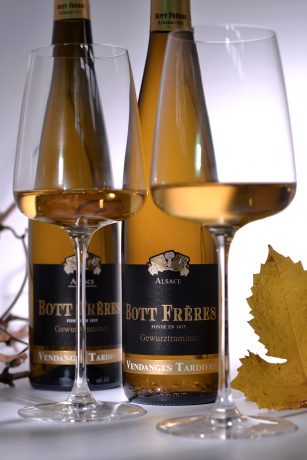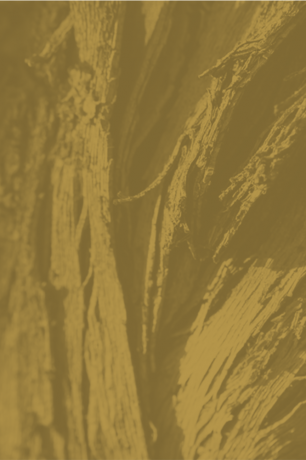 Vendanges Tardives
Our "Vendanges Tardives" and "Sélection de Grains Nobles" wines are distinguished by their exceptional mellowness, the result of the over-ripeness of the grapes, picked last at harvest time, as well as the passerillage on the vine.
Our "Vendanges Tardives" and "Sélection de Grains Nobles" wines:
– Riesling Vendanges Tardives
– Pinot Gris Vendanges Tardives
– Gewurztraminer Vendanges Tardives
– Gewurztraminer Sélection de Grains Nobles
Fruit brandies, creams and liqueurs
Our range " Fruit brandies, creams and liqueurs " embodies the quintessence of fruits in all their concentration, to share convivial moments with friends or family.